Clarion FZ307AU Mechless Short-Body MP3 WMA USB SD iPod iPhone Bluetooth Receiver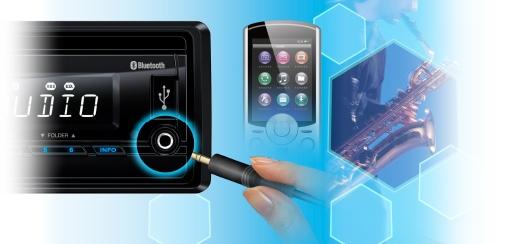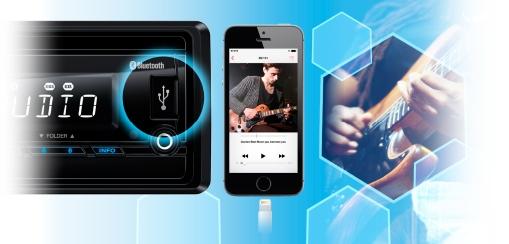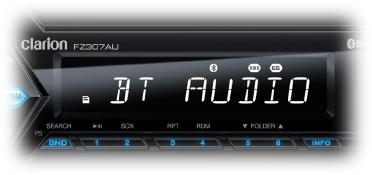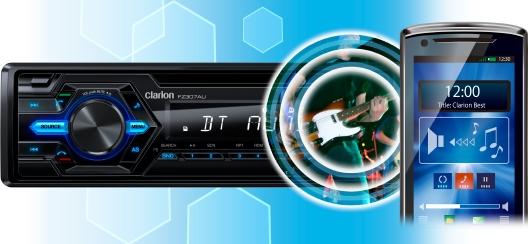 Built-in Bluetooth Hands-free and Audio Streaming
FZ307AU's built-in wireless Bluetooth interface supports HSP / HFP for hands-free operation. You can easily communicate with the outside world by listening to phone calls through the car's audio system and talking through the embedded microphone. And with A2DP / AVRCP support, you can enjoy music streamed from your mobile phone.
Connect with your Music
Just connect your iPhone to the source unit's USB port to access and play music through your car's audio system. Music search is possible using the source unit's controls. The front USB slot also supports playback of MP3 and WMA format audio files, so you can save your favourite music onto a USB or SD memory device and enjoy them in your car. 
Superior iPod and iPhone connectivity
Enjoy the familiar control and feel of your iPhone, with ALBUM / ARTIST / SONG LIST on screen display and List back operation. Simple control mode lets you easily operate the system using the controls on your iPhone, including ABC Search to quickly access your songs.
Front AUX input to connect external sources
You may have a wide variety of music sources, from the latest digital device to the antiquated analog machine. Whatever it is, as long as it has an AUX output or headphone jack, you can easily attach it to the source unit's front panel AUX input, to continue enjoying your favourite music source.
Short-body, Mechless Design
Built-in Bluetooth for Hands-free Communication
Wireless Audio Streaming via Bluetooth
Bluetooth Media Browsing via AVRCP1.4 for iPhone and Android
Single-Line High-Visibility LCD
Easy to operate, Rotary Volume Control
AM/FM Radio Tuner with 18 FM / 6 AM Presets
MP3 and WMA Compatible with ID3-TAG Display
Front USB with Direct iPod / iPhone Advanced Mode Control
SD Card Slot for MP3/WMA Music Playback
iPod / iPhone search by Artists/Albums/Songs/Genres/Composers/Playlists
Front 3.5mm AUX Input with sensitivity adjustment
Beat-EQ Sound Customisation (Bass-Boost, Impact, Excite, Custom)
Built-in 45w x 4 Amplifier
2V/6CH RCA output (Front + Rear + Subwoofer)
Built-in Low Pass Crossovers
Subwoofer Level Control
OEM steering wheel remote ready
Wireless infrared remote control included