Isuzu Dmax 08/2020+ Rockarmor GT Bumper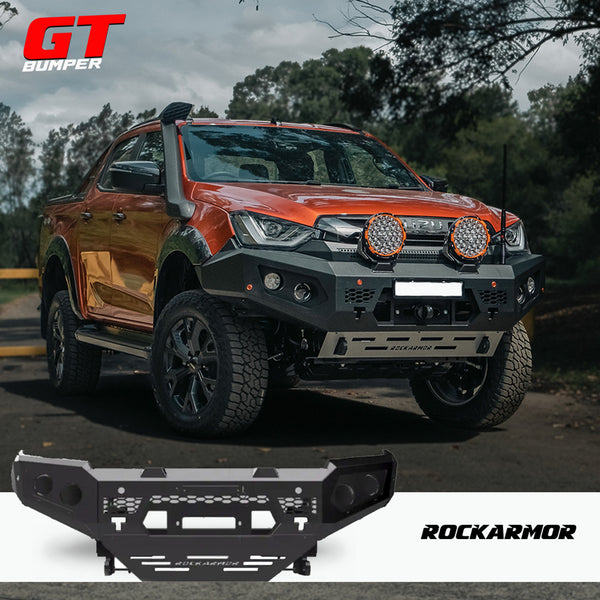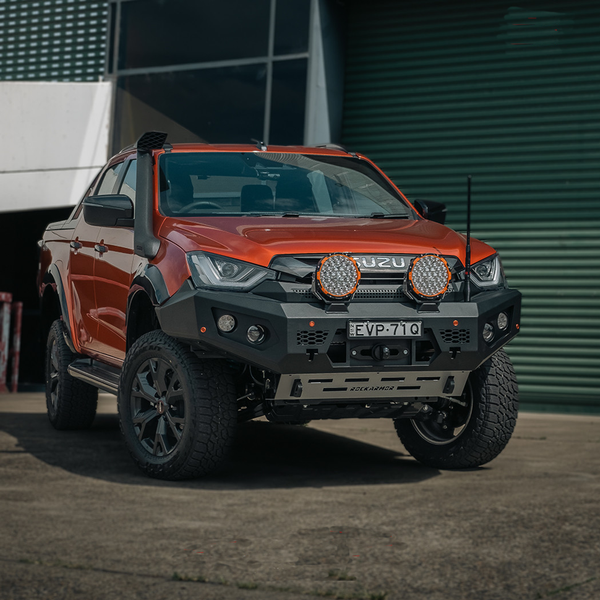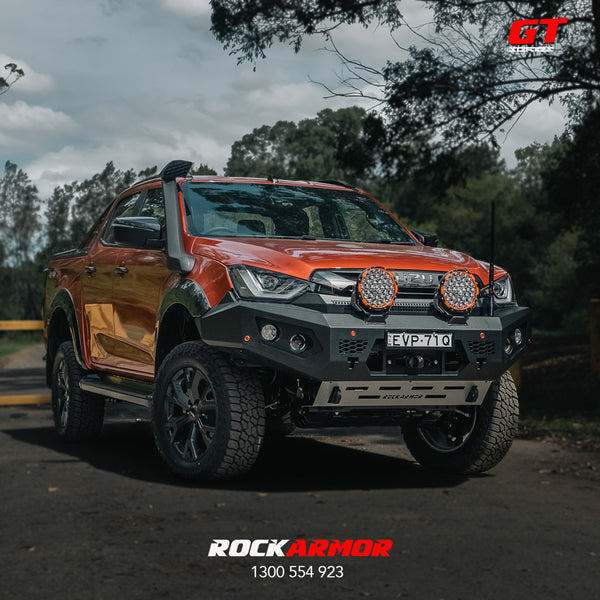 ROCKARMOR GT STEEL BUMPER (HOOPLESS BULL BAR) 
Suits: Isuzu DMAX 08/2020+ 
Suits: Crew Cab / Space Cab / Single Cab 
Fit: Full Bumper Replacement  
Specs:
- Full Bumper Replacement 
- Steel Construction (65kilos)
- 3mm Steel Through out the bull bar (doubled to 6mm steel in key areas of the bar) 
- ADR Approved / Compatible with Factory Airbags 
- Front sensor Compatible 
- Winch Compatible (Winch plate provided) Compatible up to 12,00lb
- Built in Rated Recovery Points (Soft Shackle Friendly) 
- Built in LED Fog lights (with Day Light running Light) 
- Build in LED Indicators 
- High lift jack Compatible 
- Underbody Bash Plates included 
- Mounting provisions for external driving lights 
- High Approach Angles (For better off-road driving) 
Suits Following Models: 
X-TERRAIN CREW CAB / LS-U 4X4 CREW CAB / LS-U+ CREW CAB / LSM CREW CAB / SX CREW CAB / SX SINGLE CAB  
If your vehicle's suspension is not yet upgraded to withstand 60-100kgs, we do recommend that you upgrade the suspension, especially in the front of the vehicle to withstand the weight of the bull bar & optional winch (if an electric winch is installed with the bull bar) If your vehicle's suspension is not upgraded, or if you are running factory suspension, your front suspension will sag and the ride will be bumpy which can possibly leading to further damage due to unnecessary vibration caused by the incorrect suspension. 
We recommend when fitting the bull bar to leave a minimum 10-15mm gap between the bull bar and body of the vehicle. This will allow for movement where the chassis & body move independently. 
Warranty:
The bull bar is provided with a 12months Manufacturers Warranty from Rockarmor 4x4