Hilux 8th Gen 08/20+ GT Bull Bar - Rockarmor 4x4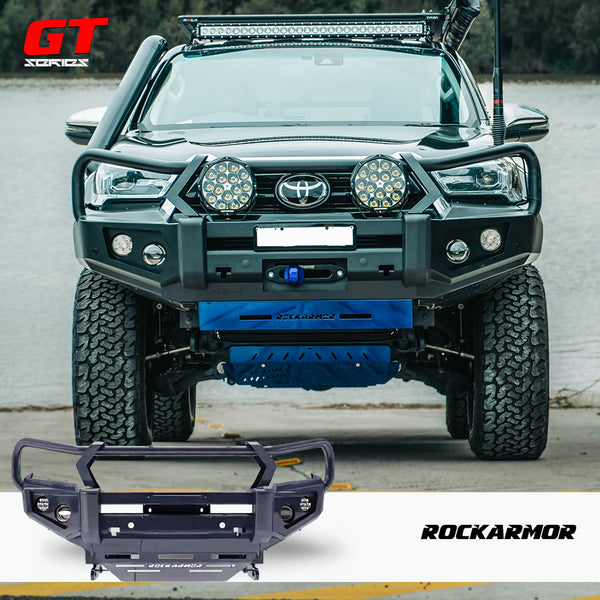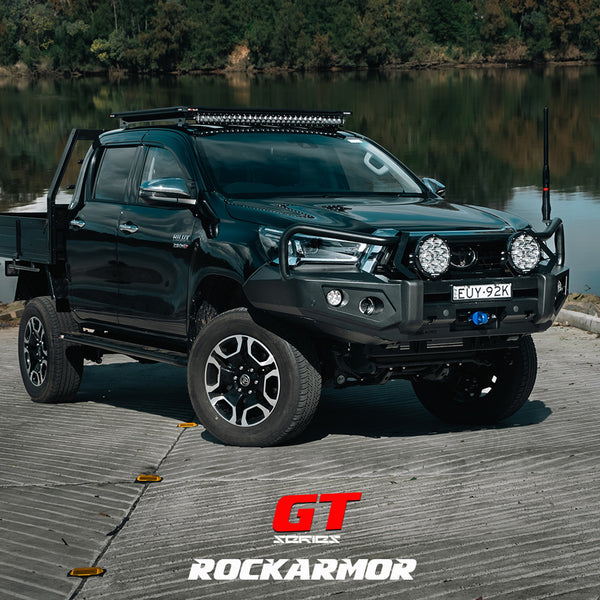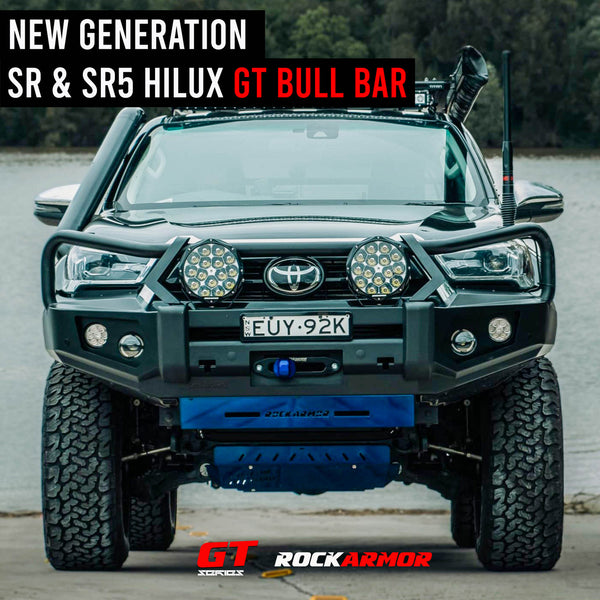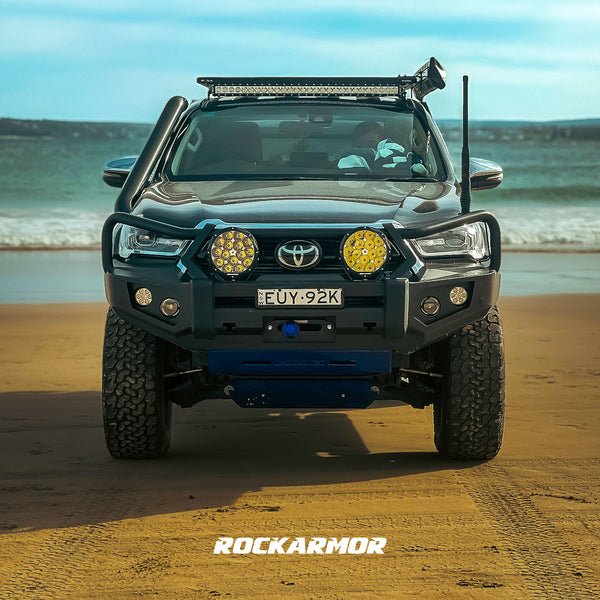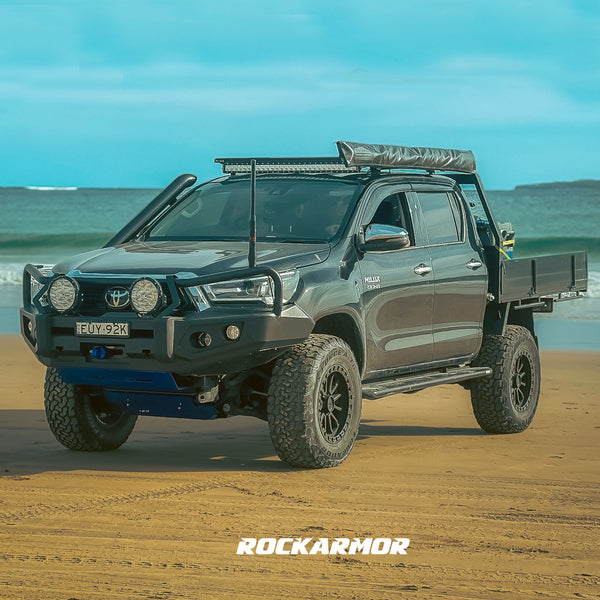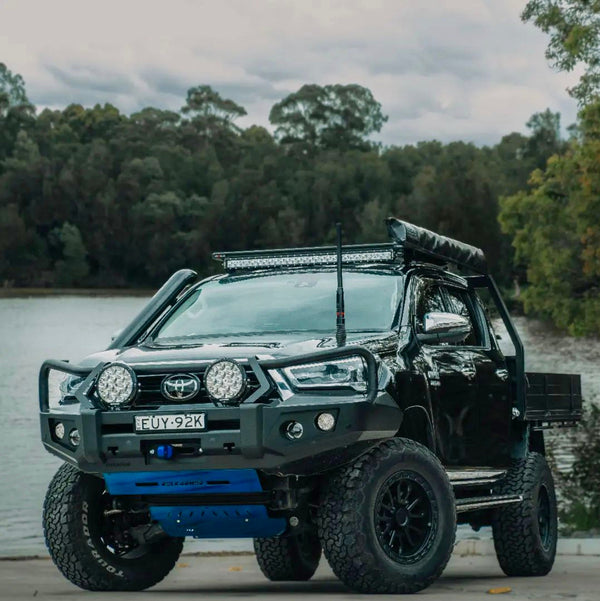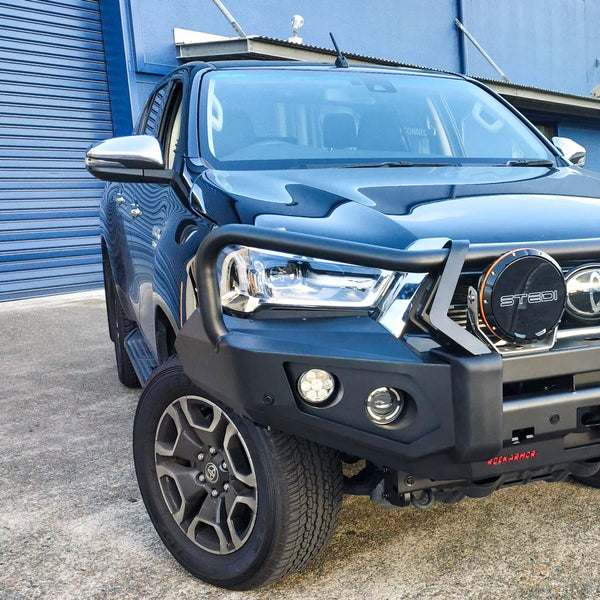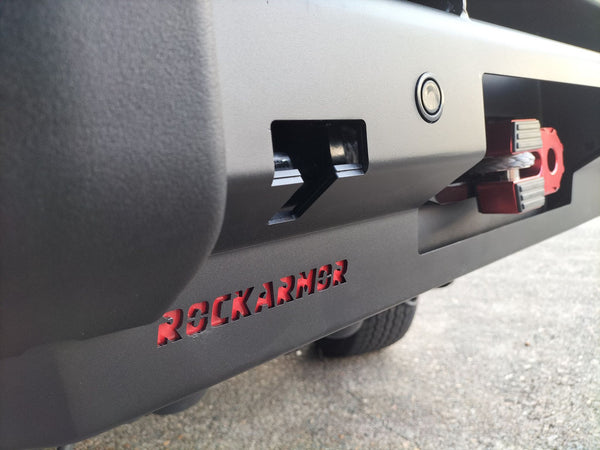 **  Stock changing daily, please enquire for availability  **
Rockarmor GT Hoop Bull Bar - Toyota Hilux 2021+ 

Suits Toyota sr Hilux Dual Cab / Also Compatible with SR5 
Does not fit workmate model. 
ROCKARMOR'S GT SERIES PROJECT
Designed locally in Australia, Rockarmor's all new GT Bull Bar series comes with a modern look, suited towards today's late model vehicles, that require maximum protection,
while complementing your vehicle's factory modern aesthetics.
As well as offering your Hilux with maximum frontal protection, The Rockarmor GT bull bar has been designed to improve your Hilux's off road experience with a number of features that include, higher approach angles, Built in Rated Recovery points for off road recoveries, and provisions for vital accessories that includes, electric winches, driving lights & uhf communication.  
The full bumper replacement Steel bull bar allows you to fit the GT bull bar to your Hilux with out having to cutting the factory bumper. 
The Rockarmor GT Bull Bar, has been engineered to be compatible with your vehicle safety features which include the front safety camera & bumper sensors.
The bull bar is finished in a highly durable black powder coat finish, Optional colour matching is available through your local Rockarmor Distributor. 
Features & Specifications: 
Built in 3.2Tonne Rated Recovery Points

52 mm Top cross tube for maximum frontal protection

Durable 2.8mm High Quality steel construction for maximum protection

Designed for high approach angles 

Built in LED FOG lights & LED Indicator, compatible with factory controls

Extended centre Bash Plate Included 

ADR Complied Air bag compatible mounting system

Factory Sensor & Front Camera Compatible 

Replacement Windscreen Washer bottle included 

Side under Protection panels Included

Twin Slotted Antenna Mounts located on top Cross Tube

Twin Hi-Lift jack points 

Front Protection Buffers

Accomodation for Electric Winch up to 12,000 pound 

Lazer cut Holes to accommodate for driving lights

Shot blasted, Chemical Washed 

Finished off in a high quality black powder coat finish 
BULL BAR SPECIAL FEATURES: