LED Amber Mini Lightbar 12/24V Permanent Mount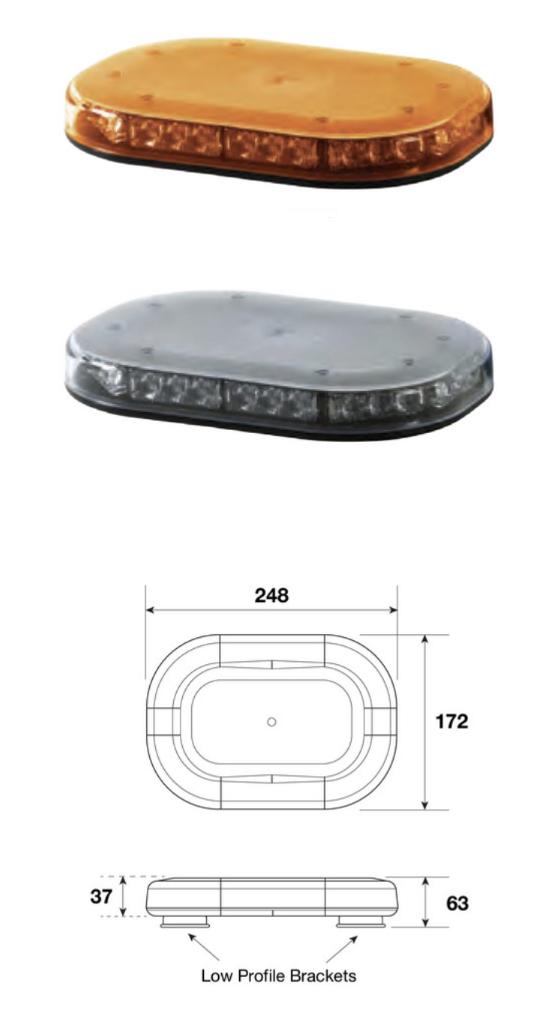 LED emergent rotating/strob Mini amber Light bar.  Available with Clear or Amber Lens.
Flash Patters: Combined Rotating and Strobe - 23 x Adjustable
Rotating/Strobe Pattern: 21 x Strobe and 1 x Rotating and plus a steady on
Amber Illumination 
30 x 1 watt high intensity amber LED's
Current Draw: 2.0amp @ 12 Volt, 1.8amp @ 24 Volt
Black durable ABS Plastic housing
Flange based for permanent mounting with low profile brackets
400mm cable with 3 wires
100,000 hour LED life span
Fully encapsulated circuitry
Reverse polarity protected
RFI Radio frequency interference suppressed
Complience: ECE R65, R10 and SAE J854 Class 1
IP65 Rating
Dimensions: 248mm x 172mm x 63mm (37mm lens height)
3 year warranty
NOTES: 
23 adjustable flash patterns are customer selectable and are changed via internal pattern select wire.
3 x wires; Battery Positive, Earth and External pattern select/synchronisation wire.
Synchronisation function for multiple lightbar applications.
Alternate or simultaneous flash patterns.
Low power function for night use.
Designed for vibration resistance and heat dissipation.
Fully sealed against dust and moisture.
Ideal for construction and commercial applications.