Lightforce Ford Ranger PX2 & PX3 Fascia Switch Panel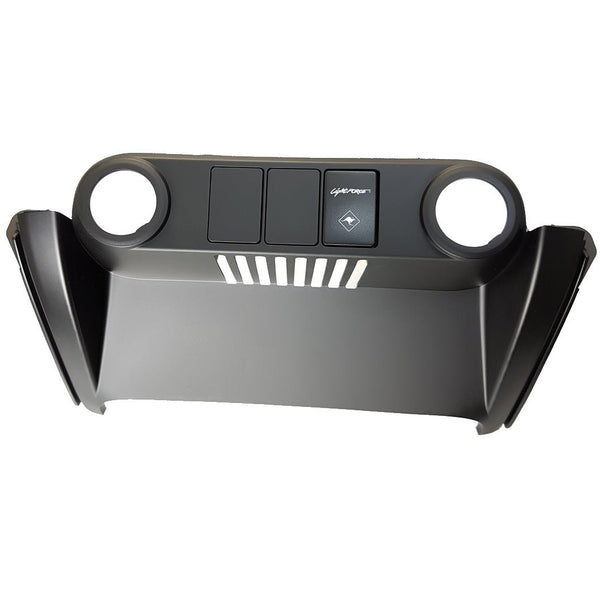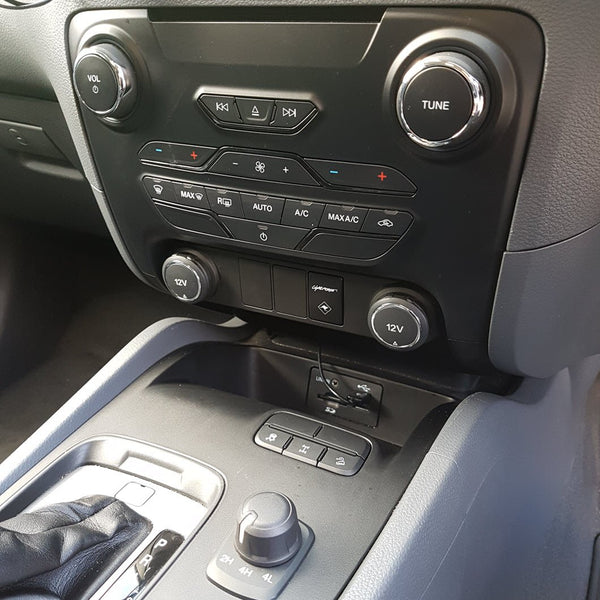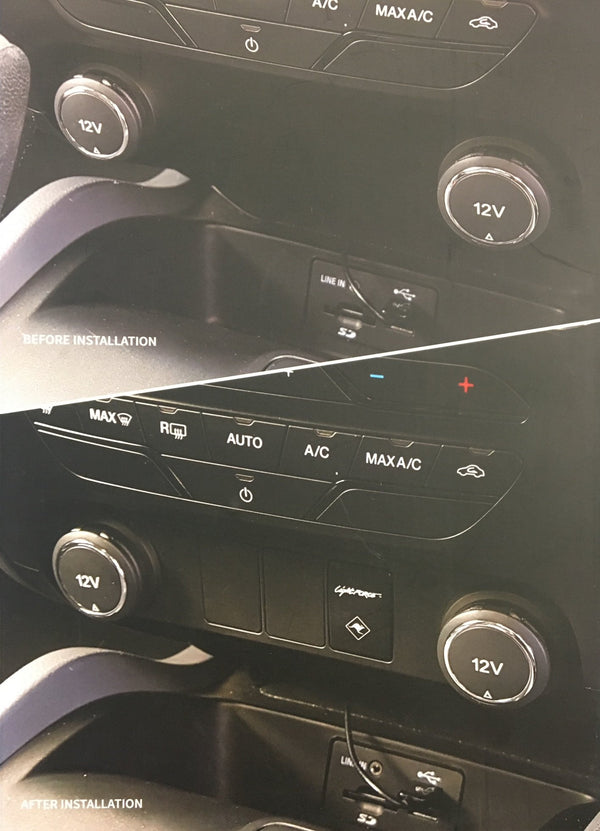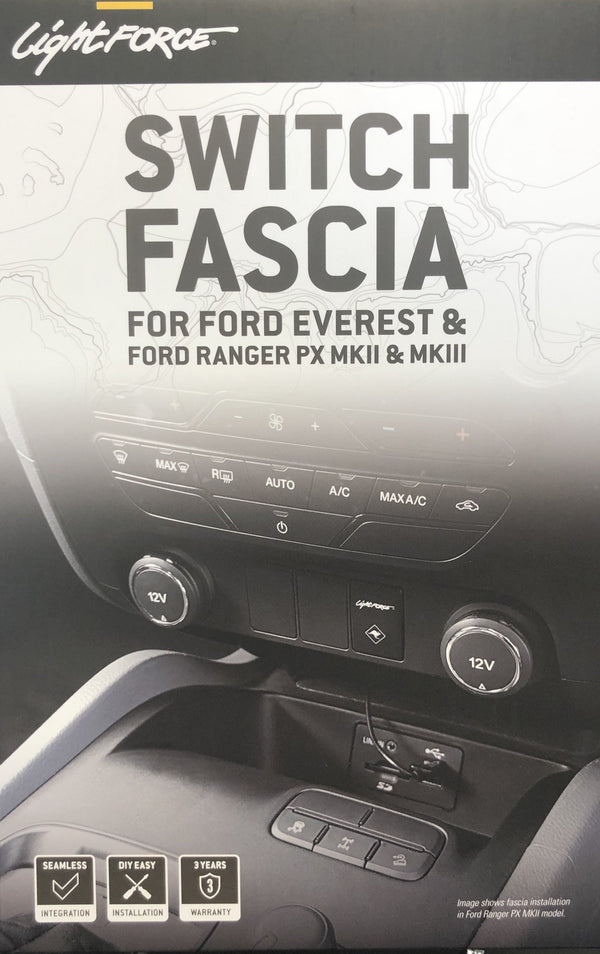 Lightforce Custom Built replacement switch fascia (Australian design patent, US design patent pending) for the Ford Ranger PX MK2 (2015-) and PX MK3.
This replaces the existing fascia that is located in the central lower dash that has the 2x 12v outlets and is compatible with all 37 PX, MK2 and MK3models and the 3 Everest models and has an Australian design patent.  
Features:
Add upto 3 OEM style switches or 6 using the dual switch
Direct replacement
Compatible with
Redarc Tow Pro remote brake controller
All vehicle funtions are maintained with no permanent alterations been made to the vehicle interior maintaining OEM look
Kit Contents:
1x Ford Ranger PX2/3 Fascia
1x CBSWTY2 Switch
2x Switch Blanks
The fascia is a direct replacement injected moulded ABS/PC panel, with zero modification to the existing surrounding console, maintaining the OEM look of the vehicle. It will accommodate 3 standard OEM style switches.
Standard switch used is the popular and readily available late model aftermarket Toyota switch as used in the 200 Series Landcruiser and Prado 150.
A single switch (CBSWTY2) and two switch blanks are provided with the fascia; the blanks have been designed to accommodate the REDARC® Tow-Pro™ remote brake controller. On the back of the blanks are two corresponding indents to aid in drilling the 2 required holes, extra blanks are available.
When fitting the Tow-Pro™ remote brake controller it is recommended purchasing the optional network cable (# CBRJ45) as the cable supplied in the original kit will not fit due to space restrictions within the console.
Fascia finish is matte black, installation takes approximately 30 minutes and only requires a 7mm ring spanner and medium screwdriver as the surrounding panels simply pull off (a little force is required as each panel has at least 6 retaining clips).
The fascia relocates in the exact same mounting points as the original so no additional fixtures or adhesives are required.
The 2 existing 12v outlets will need to be removed from the original fascia and refitted into the new fascia that incorporates the switches. This is where the medium screwdriver is required.
In addition to the switch blank and switch, our optional dual 2.1 amp USB charger is also compatible with this fascia. However the USB charger will only fit in the centre position.
Optional accessories:
Genuine Lightforce Switches:
CBSWTY2DL - Driving light switch
CBSWTY2L - Light Bar light switch
CBSWTY2W - Work lights switch
CBSWTY2HB - Beacon light switch
Aftermarket compatible switches - Click links: SW1380 (Driving lights), SW1381 (Work Lights), SW1382 (LED Lightbar), SW1383 (Roof Lights), SW1384 (Beacon)
allows for a remote microphone fitted with an RJ45 connector to be connected directly into a switch blank location on the Lightforce Ford Ranger PX MK2 fascia.
The face plate is moulded from ABS/PC so is very strong and locks into place within the existing switch blank locations.  The RJ45 pass through connector is fully replaceable (not glued in) and incorporates a front self-retracting dust cover when the RJ45 microphone connector is fitted, is spring loaded so closes automatically when the microphone RJ45 connector is removed, keeping all the internal connections free of grit.  Available with LED back lighting illumination in white (CBRJ45FP standard), and the following six optional colours: green, blue, yellow, cyan, magenta and red.
Dual switch # CBSWTY2D with a single input activates independently the top and bottom switches, so if you have a series of dual switches they will need to be grouped into lighting (active with Hi beam) or active with a constant power or ACC on power.
Network cable # CBRJ45 is 1200mm long with a wire gauge of 24AWG and is designed to fit neatly within the limited space available.
Dual USB # CBUSBR 2.1amp (4.2A in total outputs) which are fully regulated and surge protected.  Suitable for charging high powered devices like tablets, mobile phones and gaming consoles or powering navigation units and in car DVR's.  Independent illumination that is fully dimmable via existing dash light circuit, separate from the main input power, so illumination is not always on; a unique feature of our product.
All cables are over 1.5 metres long, USB power input (red wire) in, is fitted with a Micro-2 fuse tap for direct fitment to the fuse box. Earth cable (black wire) is pre-terminated with a ring terminal and independent LED illumination (blue wire) for connection to existing dash light circuit.
Specifications:
Dual 2.1A (4.2A) outlets
5.1 Volts regulated output
1.5 Metre long cables
5 Amp Micro-2 fuse tap for the dual USB outlets
2 Amp fuse for illumination
Independent blue LED illumination
Matt black face
If you are wanting more light form your PX/PX MK2 interior light check out our LED COB upgrades Interior Lighting