Lightforce Toyota Dual USB Charger 12V 33x22mm (Suit CBFASCIA2)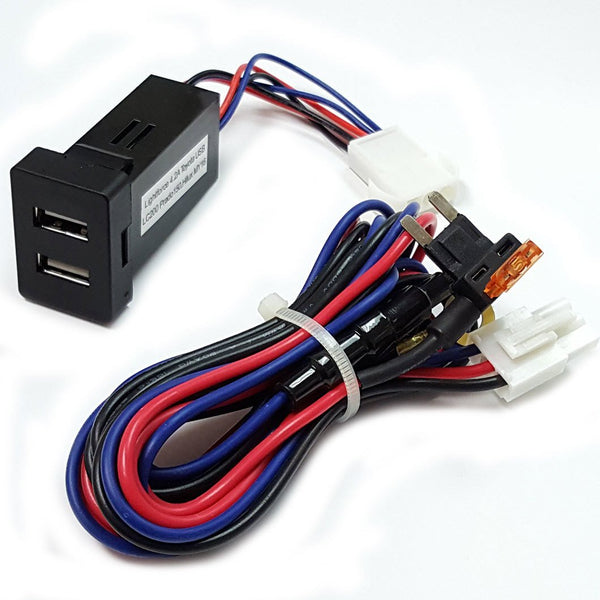 This independent 2.4 amp and 3.0 amp USB charger is designed to be compatible with Toyota vehicles with a 23mm x 33mm switch panel and Holden Colorado's when used with our switch fascia CBFASCIA2.
Suitable for charging high powered devices like tablets, mobile phones and gaming consoles or powering navigation units and in car DVR's.
Features:
2 x 2.1amp outputs that are fully regulated and surge protected.
Independent illumination that is fully dimmable via existing dash light circuit, separate from the main input power, so illumination is not always on; a unique feature of our product.
All cables are over 1.5 metres long, USB power input (red wire) in is fitted with a mini fuse tap for direct fitment to the fuse box. Negative cable (black wire) is pre-terminated with a ring terminal and independent LED illumination (blue wire) for connection to existing dash light circuit.
Specifications:
2 x 2.1 amp outlets
5.1 Volts regulated output
1.5 Metre long cables
5 Amp mini fuse tap for dual USB outlets (fitted)
Independent blue LED illumination
Matt black face
Installation:
Red wire – USB positive wire can be connected in the following ways.
To an ignition source so the unit is only powered once the vehicle is on; or to an always on source so the unit is active continuously.
Blue wire – Positive wire connects to the existing dash light circuit so LED illumination is only active once headlights are on.
Black wire – Fit to vehicles negative (earth) simply, connect ring terminal to an existing M6 bolt that is grounded.
NOTE: All vehicle accessories should be wired through a fuse if the included harness is modified during installation ensure a fuse is used as close to the input source as possible, not exceeding 5 amps.
Compatible Toyota Vehicles
Holden Colorado MY17 (when used with switch fascia #

 

CBFASCIA2)
Toyota 4Runner 2010 - Current
Toyota Prado 150 Series 2010-
Toyota Prado 200 Series 2015-
Toyota Landcruiser 200 Series 2008-2013

Toyota Hilux GUN Series late 2015-

FJ Cruiser 2011 - 2013 (Roof Console only) 
Kluger/Highlander 2008 - Current 
Toyota Rav4 2006-2012
Toyota 86 
Tundra 2008 - Current 
Other Toyota models may fit including Camry Corolla and Yaris models confirm size is 33mm x 22mm before purchasing