Mongoose VT900 GPS Tracker 12v-24v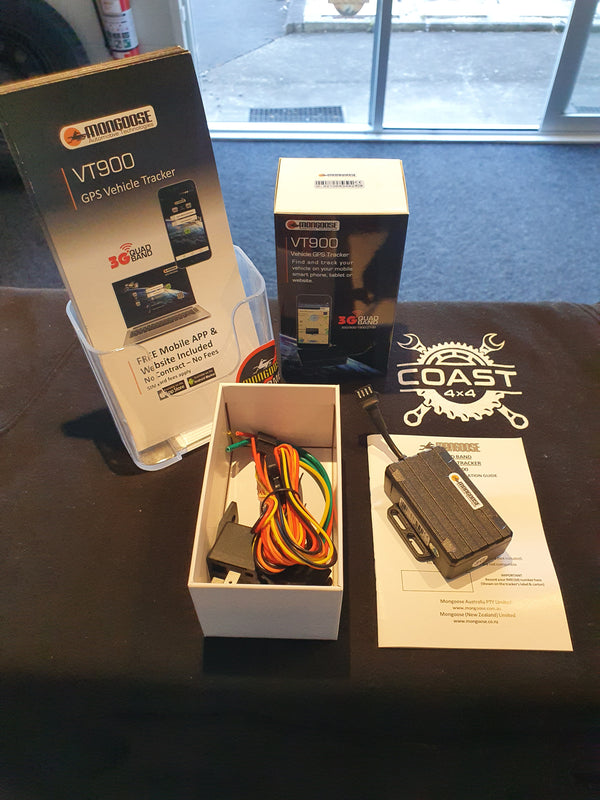 When you are looking for a vehicle GPS tracker at a realistic price - look no further.
The Mongoose VT900 has to be NZ's best value, feature packed GPS tracker available.
Just a glance through it's array of features shows it can do almost everything most users want or need.
3G Quad Band - For use in New Zealand, Australia and worldwide.
(Typical installed price - $449.00 +SIM card)
FREE MOBILE APP - FREE WEBSITE - FREE ACCESS
NO CONTRACTS - NO MONTHLY FEES - JUST SIM CARD CHARGES
Where is it now  ?
Open the APP and click "Real time". The map shows where your vehicle is located. 

Where was it  ?
History shows the route driven. Select 'play' and the screen shows the route taken.
Select any day - last 6 months history always maintained.
             
Got more than one vehicle ?
You logon with your own chosen username and password. 
See all your vehicles at the same time.
Select individual vehicles to see more details.

Any other costs ?
Yes, possibly.............................
GPS trackers require a mobile SIM card to be inserted into the tracker, this enables the collected data to be sent to the website so it can be viewed by the user.
Typical SIM costs on PrePay range from $2.00 to $10.00 per month depending on usage.

Sometimes the cost can be zero depending on your contracts with your mobile provider.
Otherwise a PrePay can be the least expensive but discuss options with your mobile provider.
Installation costs can vary according to vehicle type and whether the engine immobiliser option is fitted. 
Costs can vary typically between $100 and $150 - please discuss with your chosen Mongoose dealer.
SIM card required with voice, text & data (Vodafone, 2 Degrees or Spark) - data only cards not compatible
Updates to the mobile APP may change features (added or deleted) without notice.
ENGINE IMMOBILISER CAUTION
Mongoose only recommends immobilisation of the engine starter as this is safest method.
The stopping of an engine via the ignition or fuel pump whilst being driven may have dangerous consequences.

MONGOOSE MOBILE APP & WEBSITE 
The mobile APP is designed for smart mobile phones & tablets. (excludes Windows devices)
At times the APP and website may be offline due to upgrades, maintenance and back-ups. This is for your protection and improvement in product performance and reliability.
Please note:  The free access of the APP and website is provided for Mongoose GPS customers only.
The APP and website are used by many GPS companies worldwide and features and functions may change without notice. Mongoose accepts no responsibility and has no control of how the APP or website operate.
Some features in the APP may not be appicable to this model.
The APP and website are self managed. Mongoose can provide initial support if required.
The VT900 was previously the PT890. They are essentially the same except the VT900 is 3G Quad Band (to allow for extra mobile transmission frequencies used in Australia) and uses the Mongoose mobile APP and website.