REDARC Smart Start SBI24 100A 24V Isolator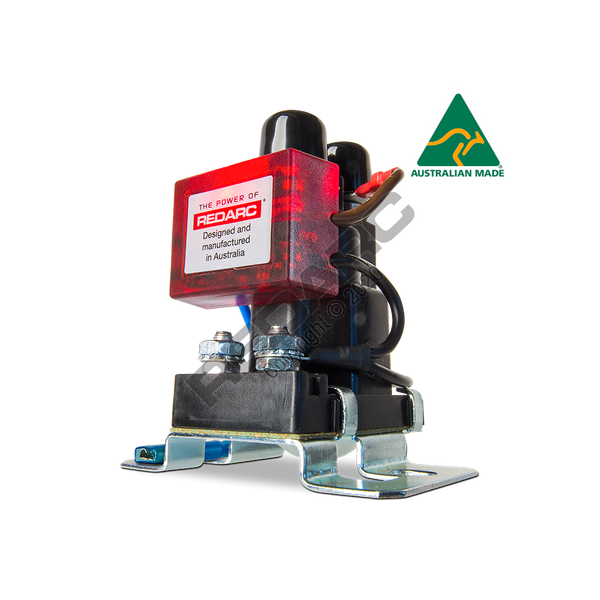 The REDARC Smart Start SBI24 100A is a 24V DC 100A microprocessor-controlled, dual battery isolator designed to protect the start battery from excessive discharge while allowing the auxiliary battery to supply charge to non-essential loads.
The REDARC Smart Start® SBI24 is a dual battery isolator used to isolate the start and auxiliary batteries in a dual battery system. It's a microprocessor-controlled smart battery isolator and will protect the primary battery from a low charge in the secondary battery so it won't drain the primary battery, while allowing the auxiliary battery to supply non-essential loads. The SBI24 provides 24 volt DC incorporating 100A of continuous ratings.
Power Saving Technology
The Smart Start SBI24 battery isolator is mostly used in commercial vehicle dual battery systems, it incorporates electronic components preventing the solenoid from generating high voltage transients. It's used instead of a diode battery isolator due to the voltage drop associated with diode type isolation. It features sophisticated fault detection and LED indication of operation to warn the user of faults including over-voltage, voltage drop and excessive current draw conditions.
The Smart Start SBI24 battery isolator is a safe way to charge a dual battery system and should often be installed with a high quality fuse kit
Features
Overmould design
Compact in size and easy to install
Silver contacts for longer life and suitable for marine applications
Power saving technology
Fault indication
Fully surge protected
| | |
| --- | --- |
| Input (Operating) Voltage | 24VDC |
| Output Current Rating (Cont.) | 100A |
| Input Fuse Rating | 100A |
| Output Fuse Rating | 100A |
| Warranty | 2 Years |
| Length (mm) | 80 |
| Width (mm) | 75 |
| Height (mm) | 63 |
| Weight (kg) | 0.2 |
| Type Approval | CE |