REDARC Tow-pro Elite V3 Electric Brake Controller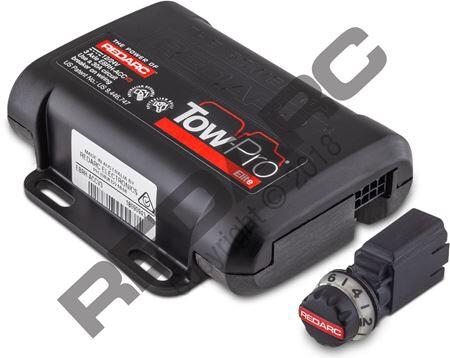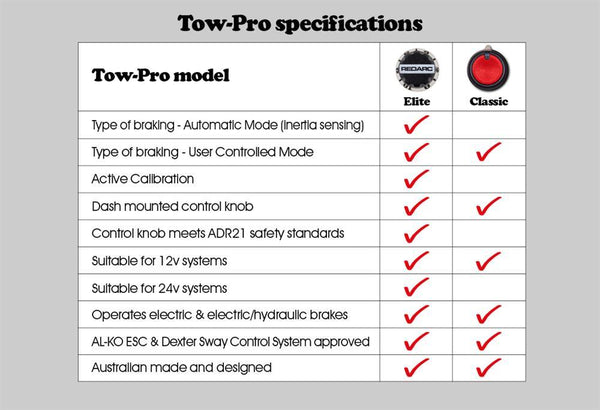 REDARC has released the next generation of its award-winning Tow-Pro Elite electronic brake controller.
This is the 3rd generation of REDARC's Tow-Pro brake controller with the original released in June 2014 and the acclaimed Tow-Pro Elite released in September 2015.
This next-generation Tow-Pro Elite retains the same name as its predecessor and continues to set the benchmark in trailer brake control technology which has seen it become Australia's favourite and most trusted brake controller.
Like previous generations, the new Tow-Pro Elite provides users with the ability to swap between Proportional mode (inertia sensing) for highway driving conditions and User-Controlled mode for off-road driving.
Even smoother braking capabilities
Software upgrades have been included in the next generation Tow-Pro Elite which will result in smoother braking for motorists towing heavy trailers and caravans.
Compatible with all modern vehicles
The next-generation Tow-Pro Elite ensures compatibility with all new vehicle technology and also still features Active Calibration, works with Electric and Electric/Hydraulic trailer brakes, supports 12 or 24 volt vehicle systems and ensures an ADR approved installation. 
New-look control knob
The main enhancements to the upgraded Tow-Pro Elite relate to the size and installation of the user interface (remote head). A change to the shape, length, size and depth of the remote head will allow a quicker and easier installation of the Tow-Pro Elite. It also ensures the remote head will fit into thicker and curved dashes found in European vehicles and trucks.
The new Tow-Pro Elite is also designed to work with modern vehicles and all available TPSI switch inserts and TPW wiring kits.
The Tow-Pro Elite is an electric brake controller designed to suit most common trailer braking applications whilst requiring minimal dash space and is simple to install and operate.
​The TowPro Elite trailer brake controller offers selectable Proportional or User Controlled trailer braking modes allowing the user to choose the braking style depending on the road or terrain conditions, vehicle type, or driver preference.
​The TowPro Elite electric trailer brake controller features Active Calibration which constantly monitors the direction of travel, the unit will even calibrate with no trailer attached whilst maintaining the ability to mount in any orientation.
​The unit is able to operate both electric and electric/hydraulic trailer brakes and will operate from either 12V or 24V vehicle systems without the need for manual selection or extra components or wiring. The unit is also Australian Design Rules (ADR) compliant when installed as directed.

​5 Reasons to stop with Tow-Pro Elite Electric Brake Controller

​​1.  A new level of towing safety, unmatched in the market
With patented* technology, Tow-Pro™ Elite electric brake controller ensures that no matter the situation, the unit will deliver a smooth, safe trailer braking response.
* Australian Patent Application 2014900483 (Pending)

2.  Puts safe braking at your fingertips
With a dash mounted control knob*, you can choose your braking type depending on the road or terrain conditions, vehicle type or preference.
* Meets ADR21 safety standards

3. Two types of braking
- Proportional Mode (Inertia sensing) for highway conditions, trailer brakes are applied at a proportional level to the vehicle braking level
- User Controlled Mode for off road, the trailer brakes are applied to the level set by the user.

4. Suitable for 12V and 24V vehicles
Tow-Pro™ Elite electric brake controller is designed to operate 12V trailer brakes from both 12V and 24V vehicle electrical systems. The acceptable voltage input range is between 9V and 32V.

5. Operates both Electric and Electric/hydraulic trailer brakes
Both braking systems can be operated using Tow-Pro™ Elite electric brake controller requiring no user input to select the mode.
* Tow-Pro Elite may not be suitable for some electric/hydraulic systems that require their own specific controller.

For full details visit the REDARC website - We can source anything from there product range.  https://www.redarc.com.au/electric-trailer-brake-controller​

Specifications:
​Input (Operating) Voltage: 9 - 32VDC
Input Fuse Rating: 30A (Circuit Breaker)
Standby Current Draw: <10mA
Output System Voltage: 12VDC
Output Current Rating (Cont.): 25A
Length (mm): 85
Width (mm): 100
Height (mm): 30
Weight (kg): 0.2
Warranty: 2 Years