Smartflare Original 2 Pack Emergency Light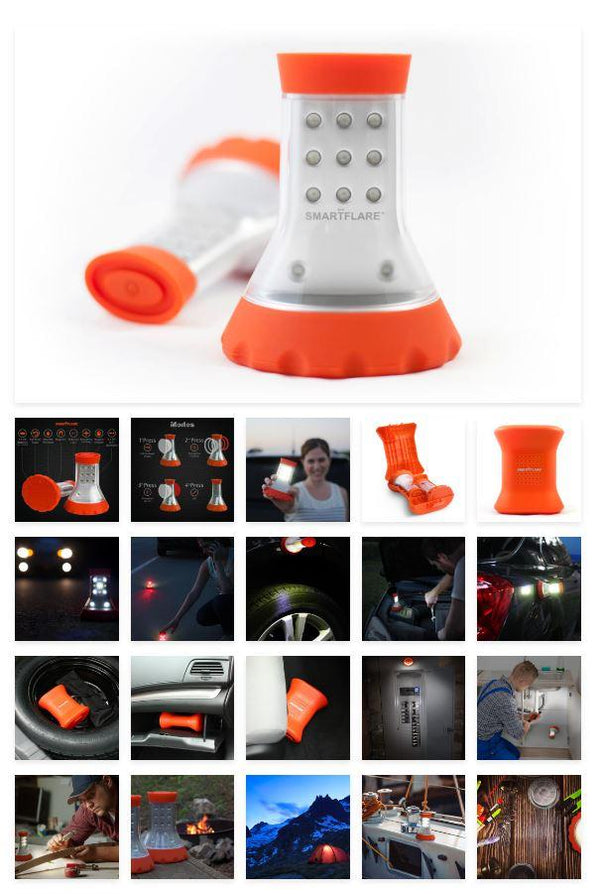 The original SmartFlare™ LED Combo Light is the most versatile, portable, and attractive LED light available. It's an ultra bright, 360 degree LED powered lighting device that works equally well as a flashlight, work light, lantern, or a flashing emergency light.
Flashlight Mode: When powered on, it becomes a multi-use LED flashlight or work light. Perfect for using in or around your vehicle, campsite, boat, house, or RV.
Flare Mode: Pressing the button two or three times activates the flare modes: – 1st flare mode (two presses). Eleven white LEDs flash rapidly in the front followed by eleven red LEDs flashing rapidly in the back for 360 degree flashing. – 2nd flare mode (three presses). Seven white LEDs are turned on in the front and seven red LEDs are turned on in the back for 360 degree constant lighting. Use as emergency road flares when your vehicle is on the side of the road to give other vehicles ample warning of your location.
Versatile Placement Features: Magnets on the bottom allow it to be attached to any metal surface – perfect for using on your car so your hands are free to tend to your vehicle, while the silicon base provides protection against scratching your car. Additionally, its shape keeps it from rolling away, allowing it to work perfectly when laid on its side unlike an ordinary flashlight.

Uses 3x AA Batteries and comes in a plastic hard case.

Video